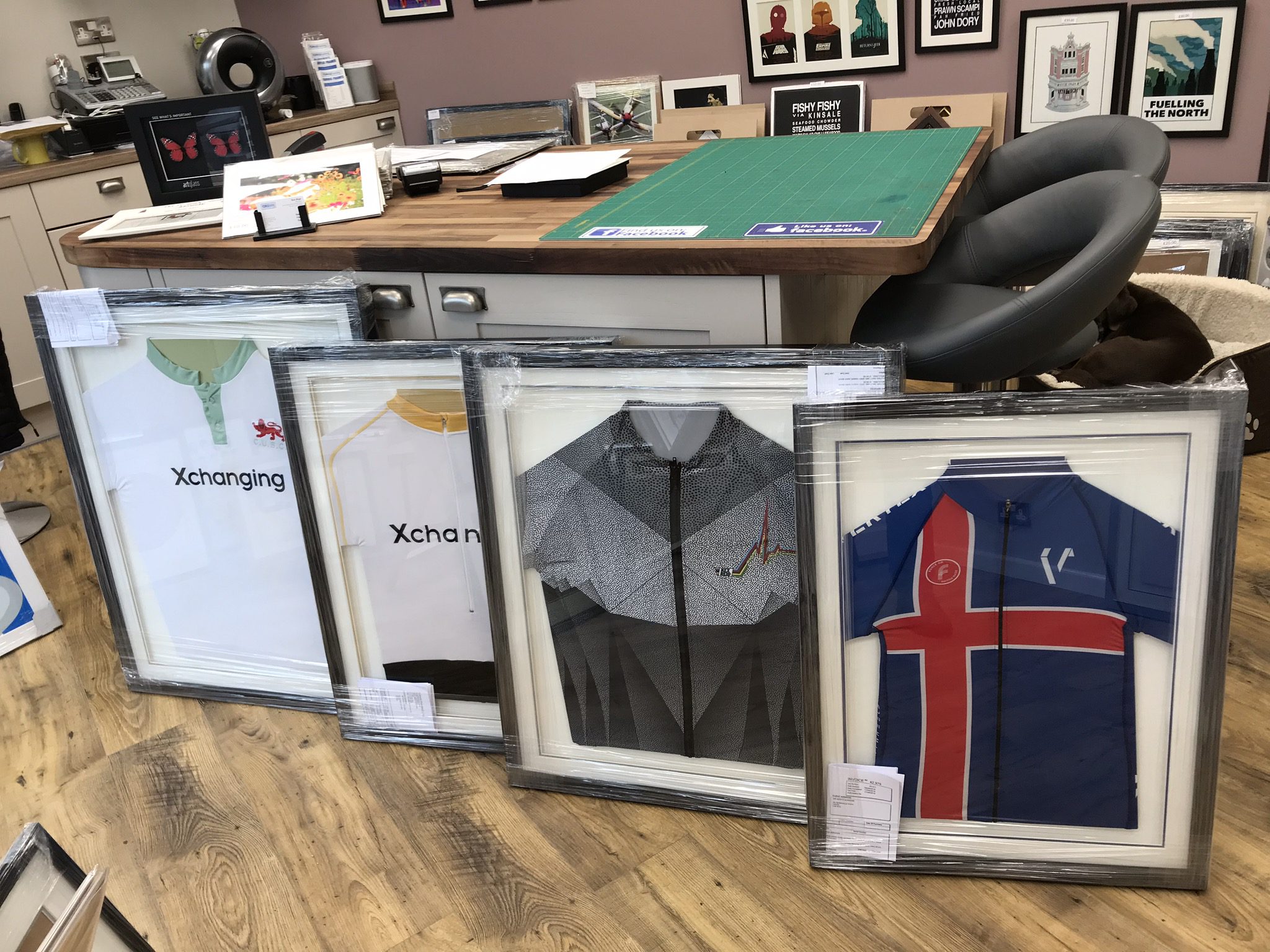 Yorks Framing offer a free consultation to discuss how best to show off your sports memorabilia. We will advise how say turning the sleeves or tapering the body very slightly or incorporating photos or engraved plaques will transform your project into a show stopper. We also advise on the colour combinations of certain mount colours to bring out the best and also background colours to show off you treasured signed shirt.
Dependant on your budget the best and most popular way we wrap our shirts is to pin them to foam board. We always pin and stitch (we never use tape).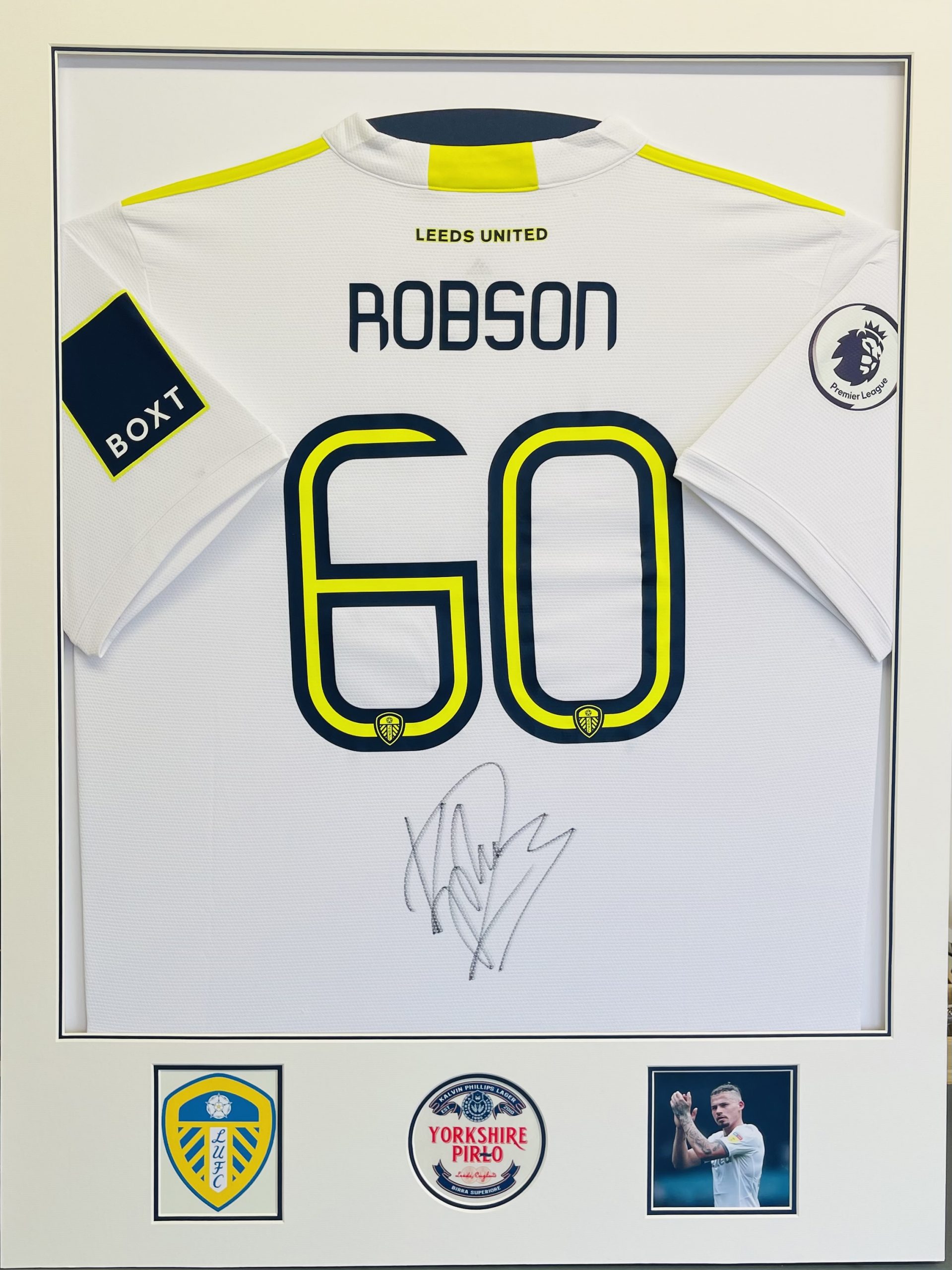 This means at any time you can retrieve your shirt if you ever want to. No tape which has bled into the fabric and essentially ruined it. We have just reframed a signed 'Real Madrid' shirt which was stapled down and is by far the worst example we have ever seen, so trust the professionals @ Yorks Framing.
We can also design with the help of our computerised mount cutter, a contoured shape or incorporate pretty much anything you want in the shirt design.
We will take a colour out of the shirt and incorporate it into a double mount so that the inner colour mount really connects with the shirt. We have a few examples listed below to show you our work.
When it comes to protecting the shirt most people are happy for standard 2mm Glass or 2mm acrylic glazing. You also have the chance to add Art-Glass which is the ultimate and will prevent unwanted fading long term and also bring out the colours better with no reflection. See our glass department for more information.
FAQ – Yes, we'll do Manchester United Shirts.
Our Shirt Framing Packages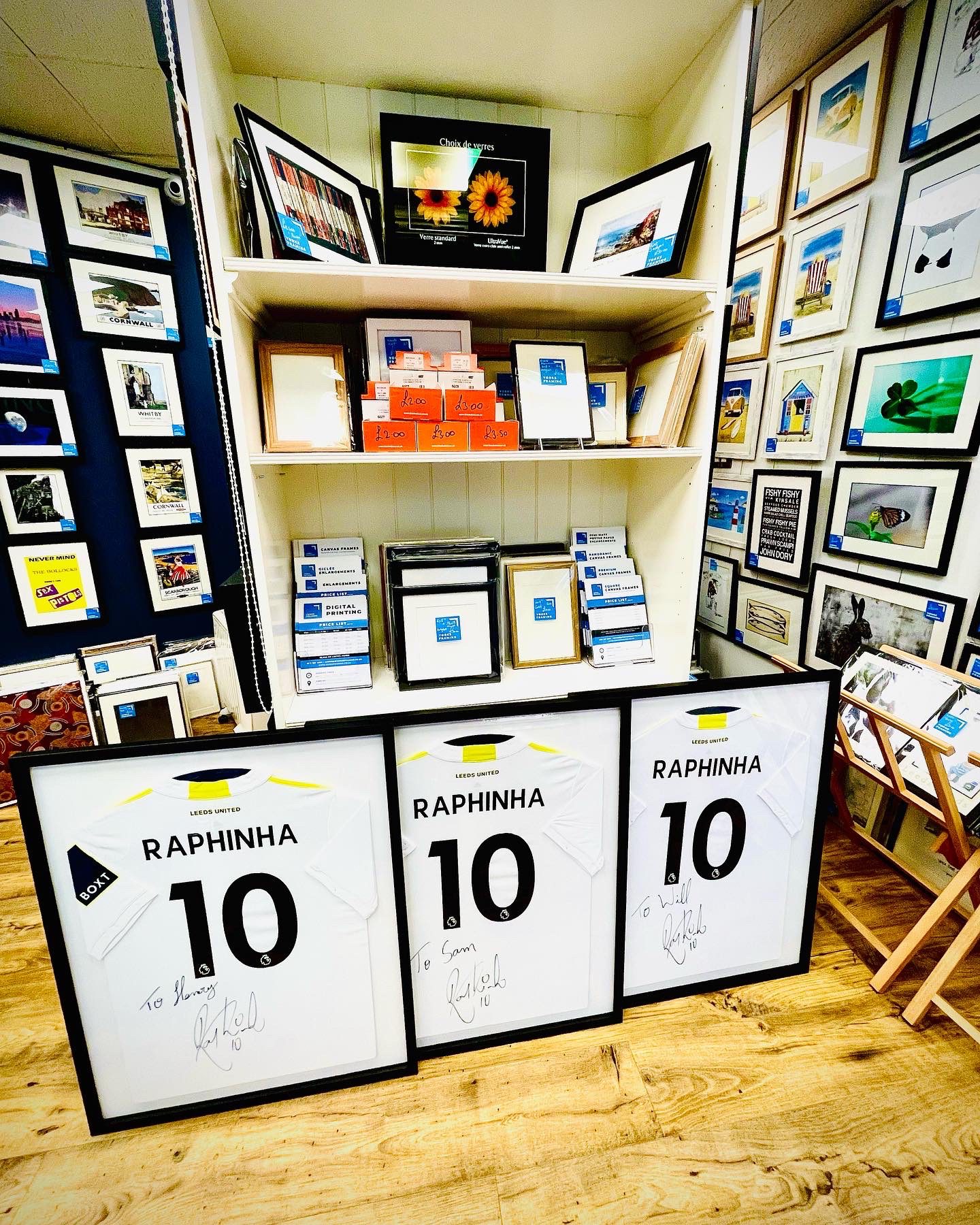 Standard Football / Rugby Shirt Framing
All shirts are pinned around foam board with no tape or adhesive used.
Total price is £108 (including VAT)
With Standard Glass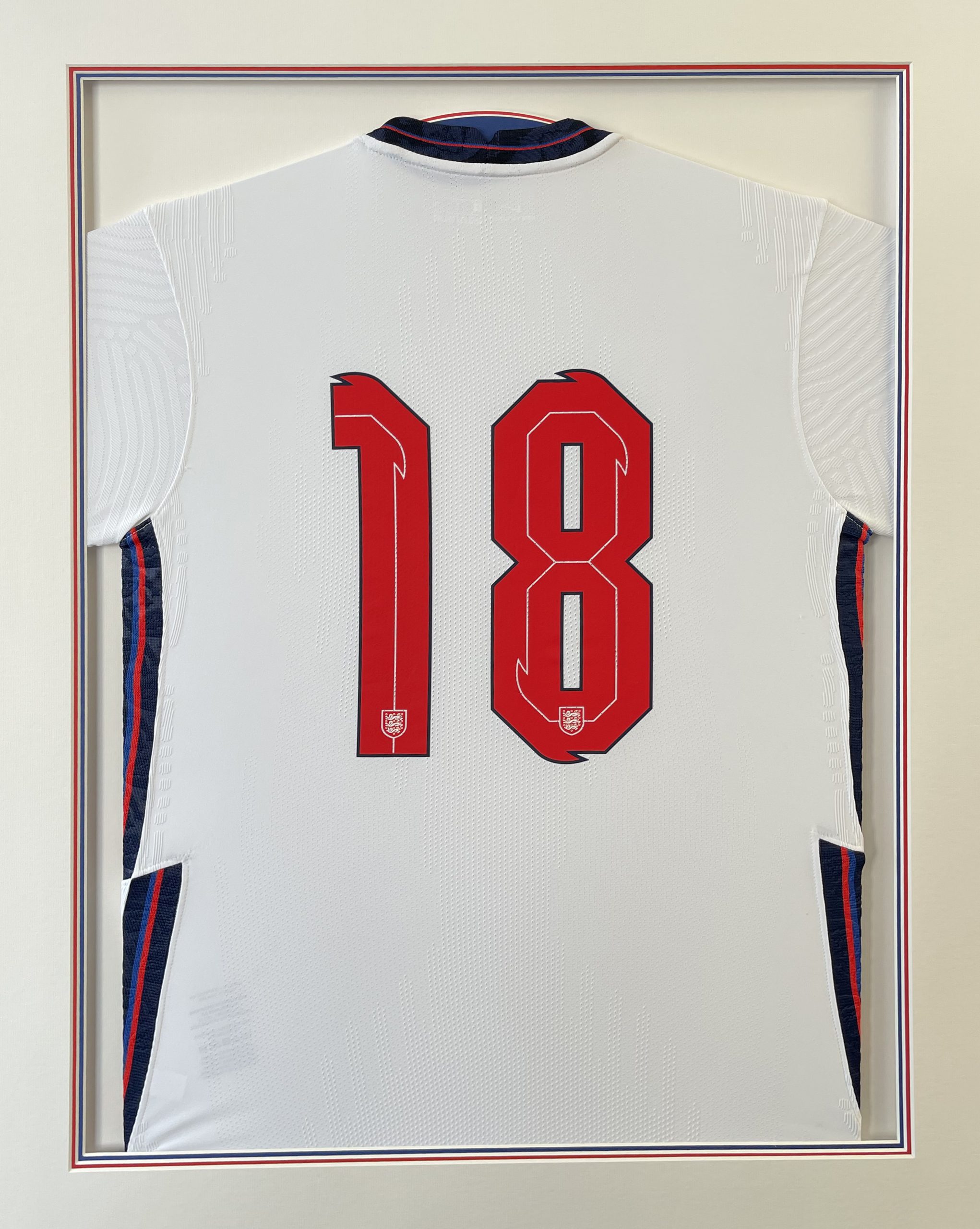 Football / Rugby Shirt Framing – Sports Shirt Framing
Comes with double mount*
*Triple mounts are £15 extra.
Total price is £165 (including VAT)
With Double Mounts, Standard Glass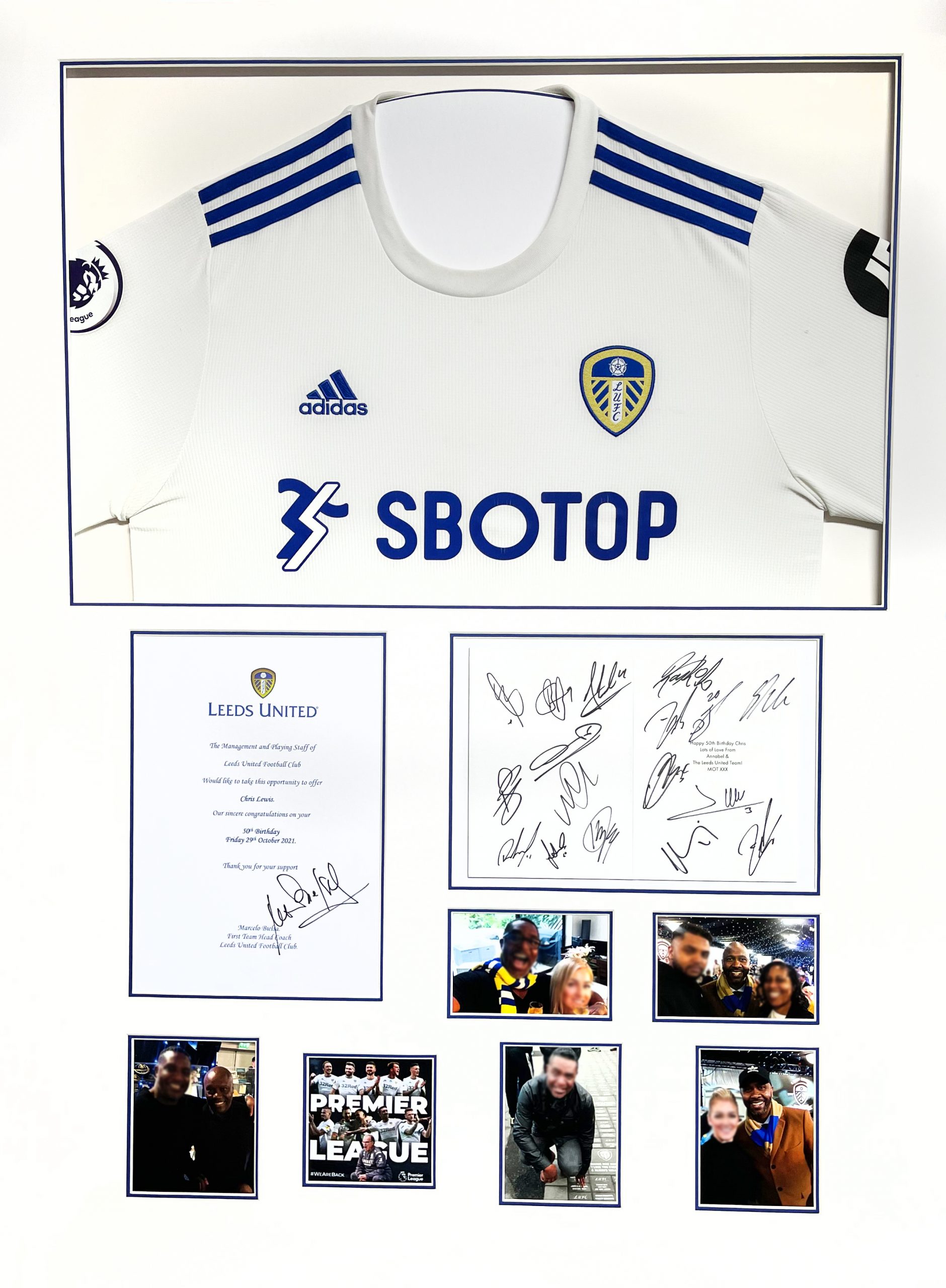 Football / Rugby Shirt Framing
Total price is £200 (Including VAT)
With Double Mounts, Standard Glass, Multiple Aperture. Includes printing. Engraved Plaque optional.
What Kind Of Shirts Do We Frame?
We don't just frame sports shirts, we can frame almost any item of clothing!
So far we've framed:-
Football Shirts
Rugby Shirts
Ice Hockey Jerseys
Gold Clubs
Tennis Raquets
Fashion Items
Band Shirts
and much more!