Yorks Framing
Premier Picture Framer, Mount Cutting & Photographic Printing business in Chapel Allerton, North Leeds
WHAT WE DO
SHOP ONLINE
USE CODE: NEW15 AT CHECKOUT FOR 15% DISCOUNT ON ORDERS OVER £30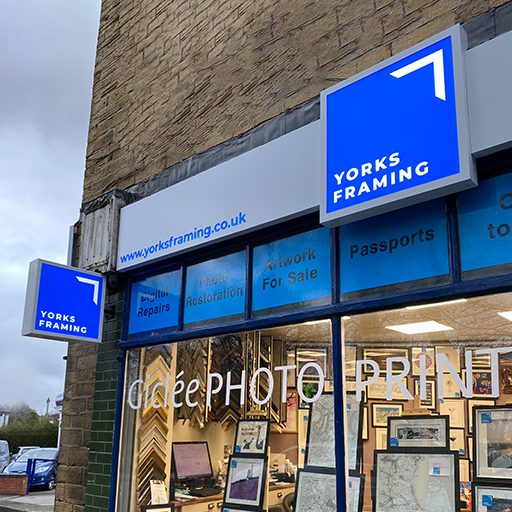 As one of Leeds leading picture framers we can frame Sports Shirts, Art, Photographs, Posters, Medals, Coins, Tennis/Squash Rackets, Records, CD's, Ties, Boxing Gloves, Running Vests, Spoons, Golf Balls, Cigarette Cards, Fossils, Tiles and much more.
We can present your valuable items in unique ways and present options you may not have envisaged, plus we use the best computerised mount cutters to do complex shapes, embossing or Pen Tools to add an embellishment not everybody can produce.
We have invested heavily in new cutting equipment, computers and software, enabling us to photograph and cut these specific shapes, letters and well!
See our Mount Cutting page for all the different options. These can all be further enhanced and protected by incorporating with our specialist glass.
Specialist in Sports Shirt Framing and More
We're not just picture framers, we frame all kinds of memorabilia too! Yorks Framing offer a free consultation to discuss how best to show off your memorabilia. We will advise in detail of how to get the best out of your signed shirt.
We can advise on integrating photos or plaque to transform this into a show stopper. Our sports shirt framing service also includes advice on colour combinations of certain mount colours to bring out the best and also background colours to show off your treasured signed shirt. Dependant on your budget we can give you various ways to frame.
Fast turnaround and free quotes
With years of experience as a picture framer we understand artwork and strive to match up the best combination of Moulding – Mount Colour and ultimately the glass to show off your artwork
This we do free of charge and will take as long is necessary. This is based on over 50 years of combined experience when you visit us. We offer first rate, friendly service and more importantly have plenty of free parking right outside/behind our shop on Harrogate Road.
Cutting Edge Technology
No picture framing business is complete without top quality machinery. We have invested heavily in our business over the last 12 months and run a state of the art computerised mount cutter. This definitely gives us the edge on speed, volume & most definitely creativity. There are some fantastic presentation options we can offer using this machine which can cut specific shapes, letters and free hand designs.
Almost 40 years serving
happy customers
"Very professional, friendly and helpful service. Delighted with the end product which was ready for collection well before the deadline date given. I would definitely recommend Yorks Framing Ltd and would use them again."
"Thanks to Bob for helping me plan a bespoke frame for retirement present. Excellent service cracking job done at short notice.
Magic, thanks Bob"